Our Inspiration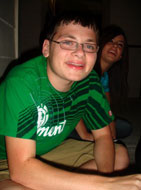 I founded National ARD/IEP Advocates in 1995 after having advocated for my son Ben who was diagnosed with Asperger's Syndrome in 1992. Ben fought through many challenges in his life that we cannot begin to understand. His mother and I were told by one clinician that we should be resolved to the fact that he will likely be institutionalized for the rest of his life. How that clinician could make that determination after only observing the child for only 10 minutes was beyond me. This "prediction" never came to pass. While he was victimized by bullies throughout middle school, and never had any real friends in public school, he graduated high school at age 18 in the top 11% of his class and was accepted in the Honors Program at Texas State University where he majored in Finance. He met some wonderful kids while attending there and made some great friendships. Unfortunately, the rest of the world did not appreciate his wonderful sense of humor, his keen intellect and his unique way of looking at the world. Ben graduated cum laude in Finance in May of 2011 and tragically died that following July. His memory is and always will be the inspiration and guiding light of this company.
In his memory, an endowed lecture entitled, "The Benjamin J. Geigerman Lecture Series" has been established for perpetuity through the University of Texas Health Science Center at Houston. The Benjamin J. Geigerman Lecture Series was established to showcase those on the Autism Spectrum who have been successful. These voices of hope can provide guidance and insight to those with high functioning ASD, showing them how to tap their potential to succeed in the job world. The lecture series also seeks to showcase employers who have discovered the many advantages of hiring individuals with ASD. For more information on the lecture series please see https://med.uth.edu/psychiatry/geigerman/.
To make a tax deductible contribution to this fund please make checks payable to UT Health. Please either specify with a letter of instruction or designate in the memo line of the check that the funds are to be directed to the "Benjamin J. Geigerman Lecture".
Please mail the donation to:
Director of Development
UT Health
P.O. Box 1321
Houston, Texas 77251
We miss you Ben, and you are always in our thoughts and hearts,
Louis H. Geigerman, President and Founder, National ARD/IEP Advocates
Louis H. Geigerman, Founder Fox Report: Special Education